In a landmark collaboration, Encryptus, a licensed and compliant Crypto to Fiat Payout Infrastructure provider has joined forces with HyperBC to offer USD Stables to Fiat payouts method as Bank Wires, Mobile Wallets, Gift Cards and Mobile Top Ups in 100+ Countries.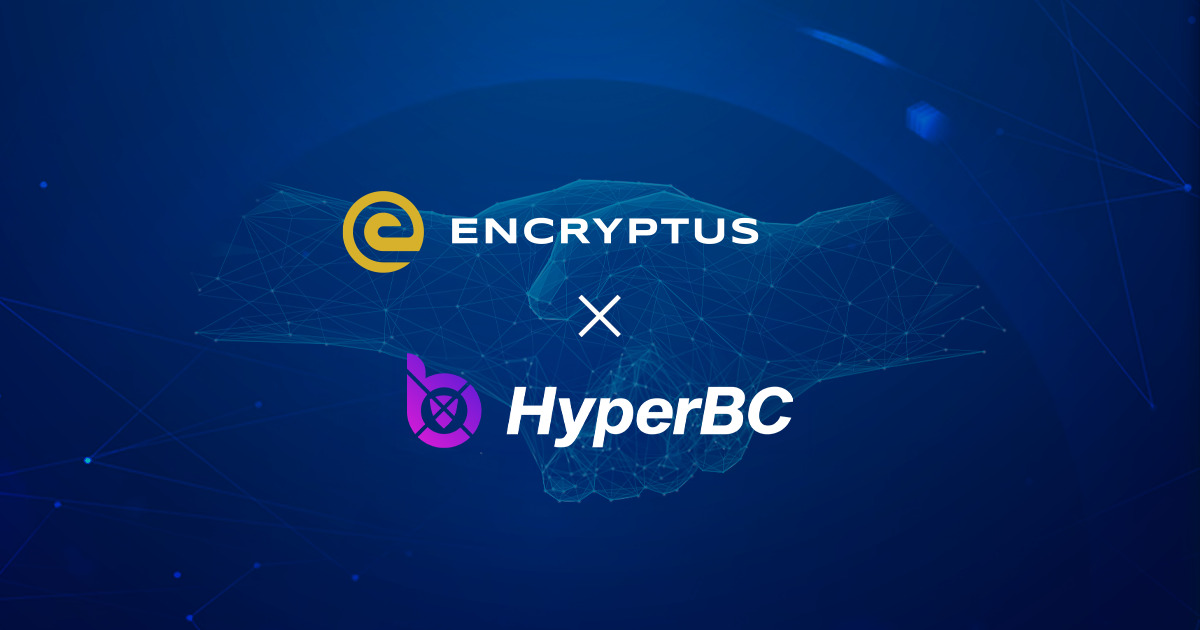 With this partnership the HyperBC powered merchants will be able to get access compliant fiat payouts. In addition Encryptus will be offering the card services in partnership with HyperBC. Joseph, CEO of HyperBC said 'HyperBC is a market leader in digital asset custody and payment solutions. By offering both MPC Wallet-as-a-Service and payment processing API to adopt crypto as payment, HyperBC aims to be a Bank-as-a-Service provider. Earlier this year, we started an aggregation programme for enterprise white-label cards to explore the integration of fiat currencies. Cooperating with Encryptus will further extend our product capabilities in facilitating the circulation of crypto and fiat currencies, using MPC as the underlying core technology, and ultimately creating an enterprise-grade infrastructure of WaaS+BaaS'
This partnership will allow Encryptus powered businesses to offer customized Crypto-cards to their users globally. Customized cards would be available in both physical and virtual form, issued under Visa, MasterCard and UnionPay. The cards are accepted by more than 50 million merchants in over 176 countries. The customer will be able to spend their crypto and withdrawal fiat currency in the real world.
In addition HyperBC business customers will now have access to a wide array of options for off-ramping their crypto funds, ensuring convenience and flexibility. With coverage in 79 countries for Bank Transfers, 39 countries for Mobile Wallets, and a staggering 115+ countries for gift cards and mobile top-ups, Encryptus truly puts the power in the hands of its users. Users from most of the African and APAC countries would get access to fiat funds within minutes at a fraction of the price.
Supporting Institutions by Empowering Its Users
This partnership between Encryptus and HyperBC heralds a new era of financial empowerment. By combining Encryptus's extensive payout network with HyperBC's globally accepted card solution, users would be able to experience a seamless, secure, and versatile financial ecosystem. Whether it's sending funds across borders or making purchases worldwide, this partnership is set to make waves in the world of global transactions.
At the heart of this partnership lies a commitment to putting the users first. Encryptus and HyperBC understand the need of launching compliant and licensed products to cater to diverse needs of their users. This collaboration represents a significant step towards providing them with the tools they need to navigate the modern financial landscape with confidence and ease.
"This exciting new partnership is another significant step in our mission to get consumers better connected globally by offering multiple payout methods to encash cryptos. Encryptus and HyperBC bring seamless, secure, compliant and low-cost payment solutions to a wider audience, thereby facilitating financial inclusion." said Shantnoo Saxsena, Founder of Encryptus.
Joseph, CEO of HyperBC further said 'This partnership is a brilliant step of our milestone to enable every business to easily and securely support digital assets and cryptocurrency payments in a regulated and compliant way. We will work together with Encryptus to bring best solutions for the crypto community'
About Encryptus
Encryptus started out as a crypto advisory company in London back in 2020, and since then got approvals from a couple of countries for buying and selling crypto assets. Encryptus is operated by an experienced team of experts who thoroughly understand the risks, compliances, and opportunities in the crypto space. We have made it our mission to empower licensed financial services companies in crypto adoption!
For any queries feel free to reach out Abhi@encryptus.io
Location: Lithuania, Europe
SOURCE: Encryptus
Disclaimer : There is no offer to sell, no solicitation of an offer to buy, and no recommendation of any security or any other product or service in this article. This is not investment advice. Please do your own research.
Source published by Submit Press Release >> HyperBC and Encryptus join hands to offer Crypto Debit Cards and Fiat PayOuts Infra