Vineyard, Utah - SnapPower, an award-winning innovator in home lighting products, is set to transform smart home accessories with the launch of LumiDock, a multi-purpose docking unit designed to be easily installed into existing light fixtures.
With the ability to power smart speakers, cameras, and a variety of other devices, LumiDock is on track to declutter homes by replacing overcrowded outlets and eliminating the unsightly mess of cords and tabletop smart devices in the home. LumiDock draws power through the lightbulb socket in your ceiling to both illuminate the warm LED light ring and power the docked device, drawing consistent power for the device even when the room lights are switched off. The recessed ceiling-mounted system produces the ideal overhead location for cameras, speakers, and more.
The LumiDock system is designed for a simple and hassle-free installation, without the need for batteries, wiring, or a professional electrician. It seamlessly fits into most existing ceiling light fixtures, also known as 'downlight cans', typically measuring five to six inches deep. This compatibility is ensured by twin torsion springs on the sides of the LumiDock, a selection of device adapters, and a switch return device, all resulting in a snug fit, secure dock, and continuous power supply regardless of the light switch status.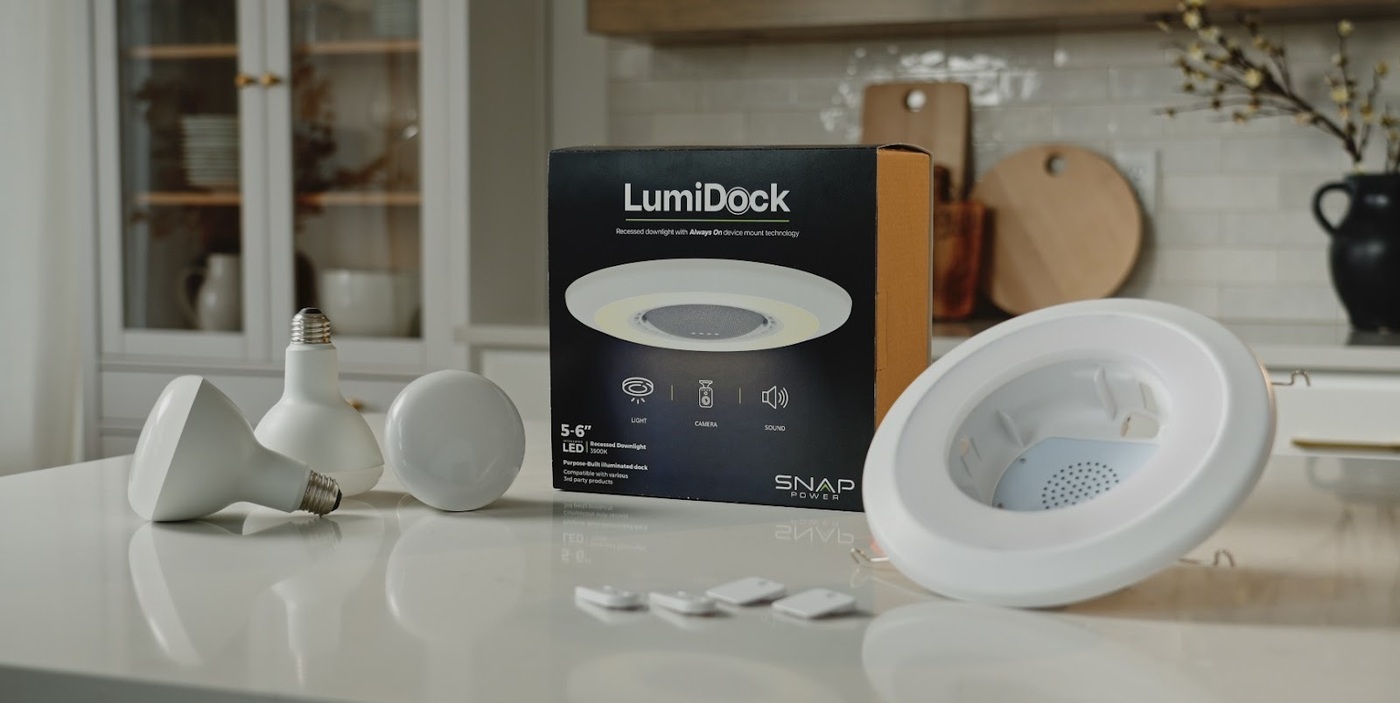 LumiDock by SnapPower
SnapPower, originally a successful Kickstarter campaign for the SnapRays Guidelight, has evolved into a thriving business, repeatedly recognized with numerous industry awards for its innovative home and lighting accessories. The introduction of LumiDock this year is continuing this legacy, turning existing ceiling lights into smart device docking stations.
Jesse Leishman, CEO of SnapPower says that their team is dedicated to developing more smart home accessories to make people's lives easier, and the LumiDock is the next step in achieving this.
'SnapPower has always been a trailblazer in home lighting and integrated tech solutions. With the LumiDock, we're converting your ceiling light into a versatile docking station for smart devices. Our patented technology guarantees uninterrupted power supply to your device, regardless of whether the room light is on or off. We're certain this pioneering concept will spark a new era of easy-to-install smart home upgrades.'
LumiDock is now available for purchase at www.snappower.com
About The Business
SnapPower is a pioneering company in the field of home tech solutions, designing innovative lighting products that enhance daily living. By integrating modern technology into existing home essentials, SnapPower aims to make life easier for people around the world. With numerous awards under their belt, the company is dedicated to the continued development of smart home accessories that are user-friendly and highly functional.
Media Contact:
Contact: Eric Waddington
Email: media@snappower.com
Source published by Submit Press Release >> SnapPower Revolutionizes Home Tech with LumiDock, a Multi-Purpose Docking Light for Smart Devices