Ottawa, Canada - More than 16,000 people were forced to evacuate their homes in Canada's eastern province of Nova Scotia, officials said Monday, as one of hundreds of wildfires raging across the country threatened the city of Halifax.
The fire, still burning out of control along the northwestern edge of the city, has not grown since a state of emergency was declared late Sunday, forcing suburban residents out at a moment's notice.
Television images showed large plumes of smoke and several houses and vehicles gutted by the fire, but no injuries have been reported.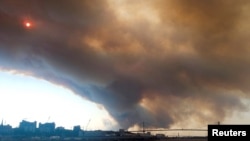 Smoke rises from a wildfire, in Halifax, Nova Scotia, Canada, May 28, 2023 in this still image obtained from social media video. Meenakshi Guchhait/via REUTERS
Prime Minister Justin Trudeau in a tweet on Monday called the wildfire situation in the province of Nova Scotia, where Halifax is located, 'incredibly serious,' and said his government was ready to provide any assistance if needed.
Nova Scotia Premier Tim Houston described a province 'on edge' while Halifax Mayor Mike Savage said the city of 430,000 was facing an 'unprecedented' fire situation.
'We have not expanded the (evacuation zone) perimeter since yesterday, which is some hope that perhaps this situation has stabilized,' Savage told a news conference. 'But it is a dangerous situation.'
Winds that had fanned the flames changed directions Monday, pushing the Halifax area wildfire back in the direction it had come.
But officials said significant rain was needed to bring the wildfires in Nova Scotia under control, and there was none forecast this week.
On Monday, wildfires were burning in eight out of 13 Canadian provinces and territories.
In recent years western Canada has been hit repeatedly by extreme weather, the intensity and frequency of which have increased due to global warming.